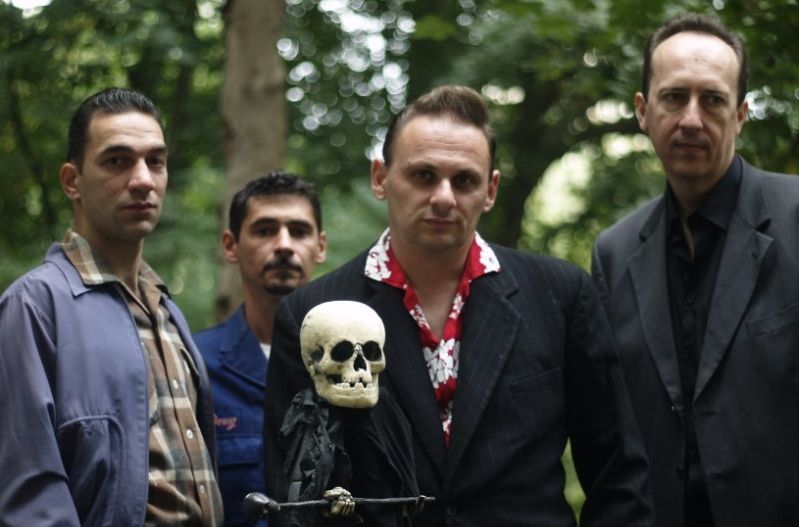 The same causes produce the same effects. The south of the U.S. generated the Unknowns, here in France it's the Zodiacs. Obscure nuggets of rockabilly, white delirious rock'n'roll, Gretsch guitar in a fury, phantoms and zombies of any kind, tubes of Guronzan (pep pills in France), shoes two-tone, here is the universe of the Zodiacs. The fifties revisited in 2008 at the time of genetic mutations of the Island of Doctor Moreau are updated by numerical sorcery.

Les mĂȘmes causes produisent les mĂȘmes effets. Le sud des U.S. gĂ©nĂ©ra les Unknowns, ici le notre engendre les Zodiacs. Obscure pĂ©pites de rockabilly, White rock dĂ©lirant, guitare Gretsch en furie, fantĂŽmes et zombies en tout genre, tubes de Guronzan, chaussures bicolores, voilĂ  l'univers des Zodiacs.
Les fifties revisitées en 2008 à l'heure des mutations génétiques de l'Ile du Docteur Moreau et mises à jour par la sorcellerie numérique. On ne ressort d'un concert des Zodiacs qu'avec le sentiment confus que la fin des temps est proche!
Bang! records discography
"To far to go back now"

EP vinyl

First four songs EP of this weird combo from the deep south of France. You will find Three exciting rockabillies and a surf instrumental "Fury of Katrina", a very special interpretation of meterologic phenomenas. more...
"Hiccup Vaudeville"

LP vinyl, MP3

The same causes produce the same effects. The south of the U.S. has generated the Unknowns, the french south has engendered the Zodiacs.
Obscure rockabilly nuggets, delirious White rock, Gretsch guitars, ghosts and zombies of all kinds, Guronzan tubes, two-tone shoes , that's the universe of Zodiacs.
The fifties revisited in 2008, updated through the digital witchcraft. more...
Links
Myspace
Facebook
Reviews

TWEET

SHARE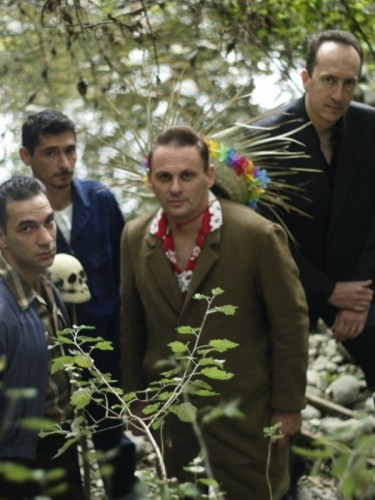 A true vinyl ep, four titles, cooked on the wood fire, a sacred fire
 like minimalist Fleshtones and trembling, which would not have more than the skin on the bones and the last thin filament from an old valve amplifier to light the road.
The Zodiacs repaint their Pink City with the colors of surf-music eternally blue and white, and the colors of the iridescent sea rollers of the Californian coast. Heir assumed to Link Wray or the Unknowns, their "Too Far Gone To go back Now" (Bang! Records) adds to the Toulouse scene the hiccupped and tart touch, key of its roots firmly anchored to the crossroads of the Fifties and Sixties. Special mention with "The Fury of Katrina", impossible to circumvent instrumental inherent one in the exercise, and true moment of grace of the batch, false airs of traditional induced but by no means forger, on the level of a nicely controlled subject


(Jean-Luc Manet, Les Inrockutibles #686).
SALUT LES COPAINS

Quand vous voulez passer une bonne soirĂ©e, allez Ă©couter un concert de rockab. L'Ă©vĂšnement est suffisamment rare Ă  Toulouse oĂč la communautĂ© des fans de Johnny Burnette et Gene Vincent ne dĂ©passe pas au mieux une quinzaine de personnes en comptant les vieillards et les enfants. On en connaĂźt deux qui viennent au Saint, des minets siamois (twin cats) qui tirent dans la catĂ©gorie poids plume. lis sont tellement petits que leur menton arrive Ă  peine au bar et qu'ils pĂšsent bien leur soixantaine de kilos Ă  deux sur la balance, mais le talent n'est pas une affaire de quintaux, la preuve avec la bouillie servie par les mĂ©talleux qui font tous plus de cent kilos. Donc, nos jumeaux ont montĂ© un groupe qui s'appelle lous Branlougas, ce qui leur va comme un gant aprĂšs le triste spectacle des balances oĂč personne ne sait comment sonoriser la contrebasse, surtout pas le sonorisateur qui cherchait des volontaires pour lui expliquer comment fonctionnait la console une demi-heure avant le set. Peu importe, avec l'enthousiasme d'un club de promotion d'honneur qui affronte une Ă©quipe de division I, ils sont montĂ©s sur scĂšne avec la basse Ă©lectrique d'un cousin et embauchĂ© un intĂ©rimaire Ă  la batterie, le titulaire du poste s'Ă©tant fait porter pale sans mĂȘme envoyer de mot d'excuse ni d'arrĂȘt maladie.
Ce qu'il y a de curieux chez les rockab, c'est que les mecs sont tous plus maigres que des punks, alors que leurs gisquettes profitent et ont du mal Ă  dissimuler leurs bourrelets sous leurs robes Ă  pois. La pause jambon-beurre qui a prĂ©cĂ©dĂ© le set constitue peut-ĂȘtre un dĂ©but d'explication, les nanas se tapant le cochon et les matiĂšres grasses pendant que les mecs se contentaient du pain rassis. C'est beau l'amour ! Et puis, le genre Ă  ses anciens, des mecs de cinquante ans qui Ă©cument les fĂȘtes de village de l'AriĂšge et de l'Aveyron depuis l'annĂ©e oĂč les Chats Sauvages ont virĂ© Dick Rivers. Eux, ils
Read more ...

TWEET

SHARE
Les Zodiacs ont gravĂ© au silex quatre titres explosifs qui condensent en moins de dix minutes ce que les fitties ont pu produire de tarĂ©s magnifiques prĂȘts a faire les pitres gĂ©niaux. pour une bouteille de gnĂŽle. Un rĂ©gal.
Les fans des Novas, du Phantom et d'Hasil Adkins n'en reviendront pas et ceux des Cramps et Link Wray y retrouveront l'Esprit et les Racines de la Bad music for bad people.
Le chanteur, servi par un groupe compétent, est un sacré phénomÚne, totalement démoniaque, hurlant en vrai possédé invoquant les mùnes du Rock'n'Roll qui n'en demandaient pas temps.
C'est marrant, sauvage et en vinyle.

TWEET

SHARE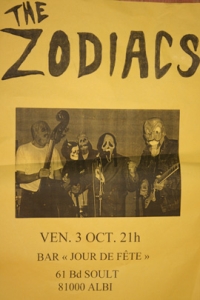 The Zodiacs engraved with flint four explosive titles which condense in less than ten minutes what the fifties have produced of damaged splendid loans to make the brilliant clowns for a bottle of hard stuff.
A treat. The fans of the Novas, Phantom and Hasil Adkins will not return from there and those of Cramps and Link Wray will find there the Spirit and the Roots of the bad music for bad people.
The singer, backed by a strong band, is a crowned phenomenon, completely demonic, howling the truth, calling upon the deep roots of Rock'n'Roll which is the world he belongs. It is funny, wild and out in vinyl.

(DIG IT # 45)