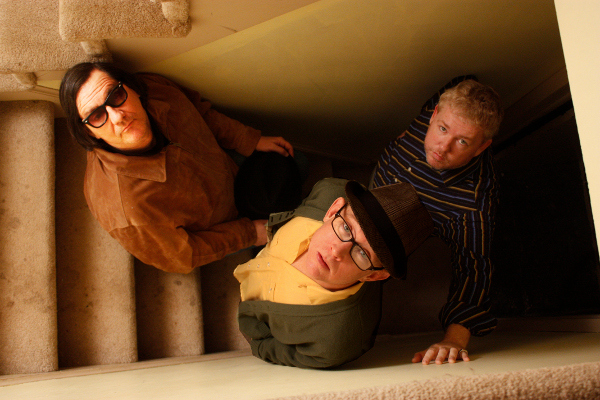 Bruce Joyner was the singer of the legendary band "The Unknows" who recorded one of the best rock and roll album of the 80's.
Bruce was born in Georgia and grew up with Hank Williams and the true original rock and roll. When he was a kid, Bruce had an accident and his vocal chords was damaged. After the accident, he had to learn to speak again singing along the records... We suppose that is why he has this special way of singing.
He moved to Los Angeles in the early 80's founded the Unknows and signed with Sire with a fantastic album "Dream sequence" with incredible songs like "Suzanne" or "Pull my train".
By the end of 1982, Bruce formed a new band the plantations and made several beautiful albums on the french label "Closer" somewhere between rock and roll, surf and new wave, strange meeting between Roy Oribison and Ian Curtis.
In 2011, Bruce is back with a fantastic album that Bang! is proud to release, with a new band, "The Reconstruction" composed by Tom Byars on guitar, Will Byars on bass and Ryan Butler on drums.

Bruce Joyner était le chanteur des Unknowns et il était associé à cette fabuleuse scène de Los Angeles dont Philippe Garnier parlait tant dans Rock and Folk : Les Cramps, le Gun Club, X,les premiers Chris Isaak etc...

Les Unknowns avaient tout pour plaire : ils étaient sur Bomp! Ils jouaient sur Mosrite, avaient un look d'enfer, aimaient le rockabilly sans le ridiculiser, et surtout, ils avaient un chanteur incroyable. Un type boiteux avec un oeil de verre, (un play boy, quoi), une voix fabuleuse et une personnalité hors norme. Le genre de type sorti des pages d'un bouquin de Falkner.

Bruce est né en 56 en Georgie (l'état ou Ray Charles, natif du coin, a refusé de jouer pour cause de ségrégation... voyez l'ambiance). Il grandit au milieu des plantations au son d'Elvis et de Hank Williams comme tout bon white trash qui se respecte... A quatre ans, une voisine lui fait avaler des cristaux de chlorure. Le petit Bruce se détruit les cordes vocales et doit réapprendre à parler. Pour se faire, il s'entraine à chanter sur les disques pour reprendre le contrôle sur sa gorge meurtrie. A six ans, second accident qui le laisse à demi paralysé. Bon départ dans la vie...

Premier groupe en Georgie puis Bruce met les voiles direction la Californie. On est début 80. La scène californienne est débordante de créativité. Il rencontre Mark Neill et Dave Boyle et fondent ce qui deviendra ce groupe de légende... "The Unknowns"
Mark est un esthète à la guitare, fan évidemment du meilleur guitariste de rockabilly de tous les temps, Grady Martin. Il a le bon goût d'introduire le son surf à une musique pourtant loin des plaisirs balnéaires. Les soli de Marc font mouche sur les textes de Bruce toujours d'une simplicité déroutante.
Le premier album sort sur Bomp en 1982 prenant le relais des Cramps qui commencent à s'empêtrer dans la routine des reprises bien senties... C'est une réussite totale, peut être le meilleur album de rock and roll des années 80's égalant les disques du Gun Club. C'est une autre vision de la musique du Sud des U.S. qu'on entrevoit : un esthétisme plus libre et moins passéiste. le son est magnifique, blindé de reverb. Les compositions imprévisibles et bizarres, couplées au cris de Bruce vous font basculer dans l'univers inquiétant des bouseux du sud... "White trashgirl", "Pull my train", "Rat race".... que des perles!

Ce n'est pourtant pas assez pour Bruce. Il se sent corseté dans ce style et cherche à agrandir ces horizons. Il quitte les Unknowns en 1982 et amateur de new wave anglaise, il tente de la jonction contre nature de Buddy Holly et des Stranglers!!!
Il fonde les plantations et signe en France sur Closer en 1983. Le premier album "Way down south" marque les esprits. Il chante comme un Ian Curtis rock and roll. Toujours avec une prise de risque maximum... La réunion des deux continents est faite.
Suivront une floppée d'album solo sur New Rose dont les excellents "Swimming with friends" 1986 et "Hot Georgia Nights"....
En 1991, ils reforment les Unknowns le temps d'un album sur New Rose. La magie opère à nouveau. Le groupe parvient a égalé le niveau de ses débuts.
Entre 1987 et 1993 suivent trois disques solos dont le dernier produit par Peter Buck (REM).

En 2010 Bruce est toujours là . Il est retourné vivre en Georgie. Il a un disque sous le coude enregistré avec ses vieux copains avec qui il jouait en 79 avant de filer vers L.A. Il signe de nouveau sur un label français Bang! records. On y retrouve toujours cette même voix incroyable avec des musiciens définitivement plus rock and roll que sa période New Rose. Un disque varié, ballade psyché, rock and roll torides ambiances du Sud garanti, moiteur des nuits d'Atlanta. Hot georgia nights d'ailleurs reprit brillamment sur ce disque, produit par Don Feming qui a à son actif Sonic Youth, Alice in Chains, Joan Jett...
Bang! records discography
"Elements"

LP vinyl

Bruce Joyner was the singer of the legendary combo Los Angeles "the Unknowns". He is back again with a new album and a new band "The reconstruction".
Bang! records is proud to release this new LP, recorded in 2010. A collection of unreleased and beautiful songs and a new version of the Bruce's hit "Hot Georgia Nights". Hearing again the beautiful voice of Bruce on a record, is a real joy! more...
Links
Fan site
Myspace
Video
Reviews

TWEET

SHARE

La voix aigre-douce des Unknowns revient, sobre, fluette et unique.
Tel un Moïse du rock'n'roll yankee. Joyner perdit dès l'enfance l'usage partiel de ses cordes vocales, puis un oeil, puis une jambe, voire ses illusions un peu plus tard. Néanmoins, il écrivit à l'aube des eighties, avec ses Unknowns, l'un des plus purs et brillants chapitres d'une histoire qui n'eut même pas l'obligeance de Les retenir. Son retour en trio, entre simplicité au cordeau et rugosité sans maquillage, ne révolutionnera rien, mais se lit comme la carte postale inattendue et, comme il se doit, uniquement disponible en vinyle d'un ami cher et lointain.
Jean-Luc Manet

TWEET

SHARE

Such a Moses of Yankee Rock and Roll, Joyner in childhood partially lost the use of his vocal chords, then an eye, then a leg, and a bit later, his illusions. Nevertheless, he wrote to the dawn of the eighties with the Unknowns, one of the purest and brightest chapters of a story that did not even keep him. His return as a trio, a line between simplicity and roughness without makeup, does not revolutionize anything, but reads like an unexpected postcard, appropriately available on vinyl only, from a dear and faraway friend.
Jean-Luc Manet

TWEET

SHARE
Saviez-vous que l'ami Bruce Joyner avait sorti un disque pas plus tard que cette année qui vient de s'achever là ? Il y est accompagné par une bande de graisseux un peu bourrins et, rassurez-vous, il joue toujours aussi bien de sa seule corde vocale valide. L'ambiance est plus wok'n roll que ma rotule gauche et Bruce (Bruce est un ami) est globalement assez en forme (c'est une bonne nouvelle). Les esprits fourbes diront que c'est un disque qui n'invente rien, les esprits sautillants leur rétorqueront que c'est un disque qui donne une incontrôlable envie de secouer la tête (c'est toujours un bon signe). Malgré mon manque de discernement (je suis foutrement idiot) il me semble que les esprits sautillants ont bien raison d'avoir raison dans toute cette histoire. Voilà .
http://novland.blogspot.com/2011/01/bruce-joyner-and-reconstruction.html

TWEET

SHARE
Bruce Joyner ? Vous avez dit Bruce Joyner ? Oui, c'est bien ça. Un talent unique, une voix unique, un parcours unique qui prouve, si besoin était, que l'art dépasse les limites du corps. Voici son histoire...

Bruce Joyner est né en 1956 dans une petite ville du sud, en Georgie, Valdosta. Il a vécu là , dans les plantations avec les noirs et les blancs. Bruce avait l'habitude d'écouter les chansons des travailleurs des plantations, et Hank Williams, Fats Domino, Elvis Presley, Chubby Checker..

Bruce, enfant, a souffert de nombreuses blessures, qui lui ont donné une apparence que l'on n'oublie pas. ll semble qu'alors qu'il était âgé de 4 ans, une fillette du voisinage lui ait dit que les cristaux de chlorite qu'elle lui offrait, un révélateur photographique, étaient des bonbons. Il les avale. Sérieusement atteint, ses cordes vocales doivent être râpées, il doit réapprendre à parler. Sa gorge est atteinte de façon permanente. Après cet accident, il commence à chanter sur des disques pour pouvoir contrôler ses cordes vocales. Ce n'est pas terminé puisqu'à 6 ans, il perd un œil et qu'à 14 ans, il est impliqué dans un accident de voiture qui le laisse partiellement paralysé.

D'aucuns se seraient découragés après toutes ces souffrances, mais pas Bruce Joyner. Il part s'installer à Los Angeles à la fin des années 70. La ville, à cette époque, est en pleine ébullition : X, Gun Club, Wall of Woodoo se produisent sur les scènes angelines. Ni une, ni deux, Bruce monte son groupe avec un ami georgien, Mark Neil, et deux inconnus rencontrés par hasard. The Unknowns sont nés. La musique ? Disons du rockabilly accéléré façon punk/Cramps avec beaucoup d'écho sur la voix et la guitare, et la voix de Joyner, unique. Un Joyner qui chante assis ou appuyé sur une canne, intensément, habité.

The Unknowns

Le groupe enregistre deux albums à écouter absolument,
Read more ...
http://www.handimarseille.fr/le-magazine/culture-124/article/bruce-joyner-l-indestructible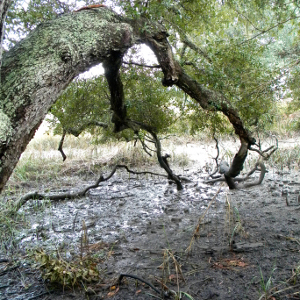 Bruce Joyner and the Reconstruction have a real winner on their hands here. Elements finds the band playing with infectious energy...and Joyner's vocals sound as focused and cool as ever. We can hear influences that range all the way from the 1960s right on through to the present. These fellows' music might best be described as underground garage pop/rock with a swampy/spooky kinda feel (?!). Killer tracks include "Invisible Smile," "Swamp Fox Foxy," "Trees," "Mr. Free," and "Hard Machine." Note that the band is playing live in support of the album. Our guess is that...after hearing this...they're probably bringing the house down wherever they play. Cool gripping stuff that sounds real. Top pick."

TWEET

SHARE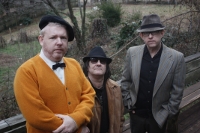 His current ensemble is dubbed The Reconstruction, featuring Joyner's longtime guitar-slinging foil Tom "Possum" Byars (Out Of The Fire) helping to lead the charge. Elements, featuring production and engineering work from both Don Fleming (who played in a band with Joyner in the late '70s before going on to fame with Gumball and as an in-demand NYC producer) and Mitch Easter, is indeed a worthy addition to the Joyner canon, a sleek though stripped-down cauldron of driving garage and hard-edged pop. Throughout, Joyner sings with a deeply-felt passion, one moment unleashing a sneer or a snarl, the next crooning romantically like a punk Sinatra. Among the highlights: thumping, swaggering opening track "Invisible Smile," which is aggro punk with a melodic edge; "Swamp Fox Foxy," anthemic garageadelica, featuring lead guitar by Fleming; "Evil Smile," Southern goth-pop that'd make Lux Interior smile; and "Hot Georgia Nights," which with its underlying surf-y vibe wouldn't be out of place on an Unknowns record.