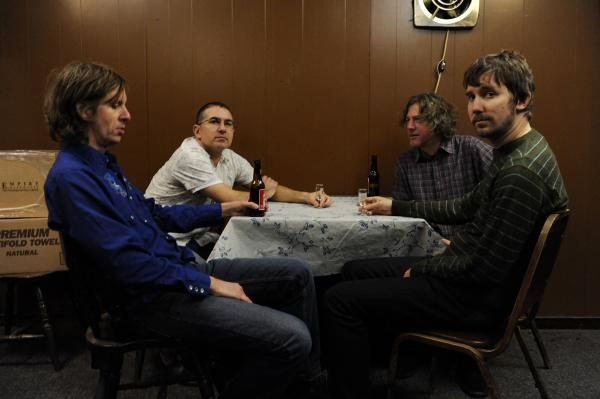 Obits. From Brooklyn, New York. For sure, one of the best bands in rock and roll activity on this planet. The real r'n'r, the one that produces an aesthetic discharge in accordance with its time ... We think a bit of the Yardbirds, Fugazi or Television but it's much more than that ... A mixture of hardcore, power pop, all that ultimately transcended by rock and roll ...

Les Obits ("rubriques nécrologiques" dans les journeaux américains) se forment en 2005, suite à la séparation des Hot Snakes et du retour du chanteur Rick Froberg à New York. Avec le batteur Scott Gurskyand, le bassiste Greg Simpson et le guitarist Sohrab Habibion, ils commencent à écrire quelques chansons. Ils font leur début sur scène en 2008 puis réalisent leur premier single "One Cross Apiece" / "Put It in Writing" sur leur propre label "Stint Records".

Rapidement repéré par Sub Pop, ils signent sur le label de Seattle. Leur premier album "I Blame You" sort en Mars 2009. Il s'impose comme un des meilleurs albums de rock and roll de la décennie mélangeant les diverses influences du groupe : le hard core, after punk anglais, psychedelisme sixties. La sauce prend et tandis que la critique ne s'y trompe pas. Rock and Folk en fait son album du mois.
Un deuxième 45t "I Can't Lose" / "Military Madness" sort, cette fois sur Sub pop, en April 2009 avec une excellente reprise de Graham Nash. Les tournées s'enchainent entre l'Europe et l'Amérique du Nord tandis que Bang! records réédite leur deux 45t en 2010.

Le deuxième album "Moody, Standard and Poor" est sorti sur Sub Pop en Mars 2011.
Bang! records discography
Links
Myspace
Official Site
Facebook
Wikipedia