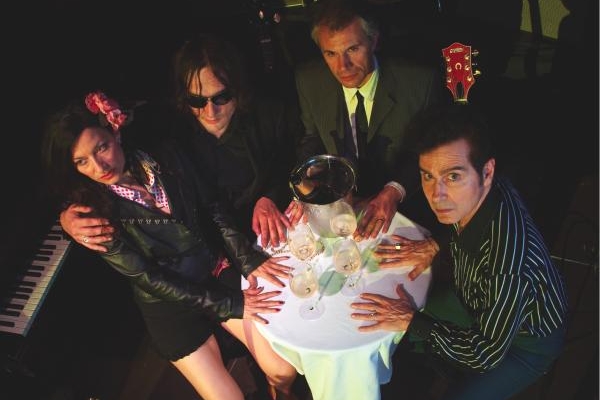 Tav Falco spent his formative years in the country near Whelen Springs, Arkansas, before landing in Memphis in the late 1960s. Co-founding with decadent poet Randall Lyon, the art action group TeleVista in which he worked alongside renowned photographer William Eggleston, Falco spent the next decade filming and photographing the city's legendary cadre of country blues and rockabilly musicians, artists, and politicians, expanding his lens to the outer realms of the Panther BurnsMississippi hill country and the Delta. In his travels he documented Sam Phillips, R.L.Burnside, Phineas Newborn, Jr., James Carr, Cordell Jackson and Jessie Mae Hamphill to name but a few. Tav Falco's HofnerThroughout his career in photography, video, film and music, Falco has merged the grainy portraiture of a gonzo documentarian with the spellbinding mythos of a backwoods raconteur.
None is more illustrative of this raison d'ĂŞtre than the band he founded with fellow musician and Memphian enfant terrible Alex Chilton - The Unapproachable Panther Burns. A reference to an ol' Mississippi tall tale, Panther Burns was a large 19th century plantation outside of Greenville where legend had it a cunning panther stalked and terrorized the local population until it was corralled into a cane break and set aflame. According to witnesses, the screams coming from the panther were an unholy amalgam of animal lust and divine transubstantiation, which continue to curse the plantation.

Playing in the Memphis cotton loft - wood-lined structures Falco likened to a guitar sounding box - Panther Burns developed their own tone science and gut-bucket approach to musical forms. The unbridled Panther Burns shows, which often featured guests like Charlie Feathers and Jim Dickinson, became monumental, renegade events.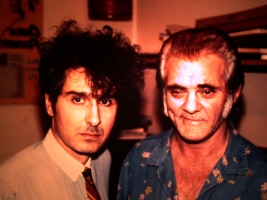 Ever-committed to preserving indigenous music and furthering new and daring expression, in 1983 Falco and the Panther Burns founded Counter Fest, an annual festival showcasing the best and the worst of the Memphis arts underground. The band quickly became a favorite in New York City, as well, where No Wave was emerging at the time (with such bands as DNA, Walter Stedding, James White). Rough Trade Records enthused over the band and released Panther Burns's debut album The Magnolia Curtain in 1981.

After twelve LP and EP releases and countless globetrotting tours, Falco expatriated to Europe, where he found his most embracing audiences along the Seine and Danube rivers. The lure of the Mississippi was not far from his mind when he finally chose the river towns of Paris and Vienna as outposts of mother Memphis. The dramatic flair of his music has always colluded with cinema, and Falco was destined to step foot in its dream-factory. 2 Aug 2009In addition to his own expressionist-inspired films (Shadetree Mechanic (1986), Memphis Beat (1989), Born Too Late (1993), Masque of Hotel Orient (with Kenneth Anger, 1996), Urania Descending (2009)), Falco appeared in the unredeemed Jerry Lee Lewis biopic Great Balls Of Fire (1989) and portrayed the leader of a motorcycle gang in the award-winning rock'n'roll road movie Highway 61 (1993), riding his own vintage Norton motorbike.
Similarly, Falco's interest in Latin sounds has evolved into an ardor for Argentina tango. Becoming a tango dancer himself, Falco is regularly gliding in baroque ballrooms of Vienna's many palaces and in the milongas of Paris and Buenos Aires. World we knew LP The profound influence of tango is evident in Falco's albums, as woven through Shadow Dancer's songs of unrequited love, betrayal, and lost causes. As The New York Times has declared of unorthodox preservationist Falco, "(He) is a singer, guitarist and researcher of musical arcane who hasn't let his increasingly technical expertise and idiomatic mastery compromise the clarity of his vision."
Falco continues to perform with Panther Burns, appearing at events like the It Came From Memphis series at The Barbican Centre in London in 2005. Recent performances included 2006's Arthur Nights festival at the historic Palace Theater in Los Angeles, 2007's Fondation Cartier in Paris, 2008's headlining performance at the Strade Blu Festival in Tredosio, Italy, and 2009's Alternatilla Festival in Mallorca, Spain, and the Barreiro Rocks Festival in Lisbon 2010. He also appeared in By The Ways, a documentary film about color photographer William Eggleston, and enjoyed a retrospective of his films in April 2006 at the prestigious La Cinémathèque Française.

Erik Morse 2010
Bang! records discography
"Seance for Deranged Lovers"

Sold Out!

One of the best albums of the legendary Memphis rock'and'roll maestro.
Exiled in Europe, Tav Falco lives between Vienna and Paris where he has recorded this beautiful LP with french and italian musicians.
His famous formula (a strange mix of tango, blues and primitive rock and roll) is applied here at its best. more...
Links
Wikipedia
Myspace
Fan Site
Reviews
Author Robert Gordon included a sizeable segment about Tav Falco and the beginnings of his group Panther Burns in his acclaimed book on Memphis music, It Came From Memphis. Falco has formed a legendary reputation nationally and internationally over the past three decades since the formation of Tav Falco's Panther Burns, releasing dozens of recordings, produced by the comrades, Jim Dickinson, and Perry Michael Allen of Hi Records.

Tav Falco first felt the twinges of musical inspiration growing up in rural Arkansas, where he was drawn to the rustic blues and jazz forms that abounded in the Mississippi Delta area. While working as a brakeman on the Missouri Pacific railroad, Falco would hop rides into Memphis -- where "music was just in the air," He remembers hearing 1st generation country blues artists like Sleepy John Estes, Bukka White, Furry Lewis, Fred McDowell and Houston Stackhouse.

Falco later moved to Memphis, where he crafted avant-garde video documentaries of local musicians for the experimental TeleVista group. Around that time, he joined Jim Dickinson's offbeat band Mud Boy & The Neutrons as a performance artist. "We would do these alternative theatrical art actions within the context of rock'n'roll shows," he recalls. "We were being hoisted up in harnesses and slung out over the audience and re-enacting scenes from William Burroughs involving shipwrecks, finger amputations and onstage explosions."

Mud Boy eventually disbanded, but their free-for-all at Memphis' Orpheum Theater would be Falco's dramatic entry into the world of music making. Falco arrived with his battered Silvertone guitar (purchased from a neighbor for five dollars) on which he'd learned an odd, drone style from then obscure honky-tonk bluesman R.L. Burnside, and, between sets, he took the stage. "I was in evening clothes -- frock coat and tails, white tie and gloves -- and I had a chainsaw and an electric Skilsaw set up on two
Read more ...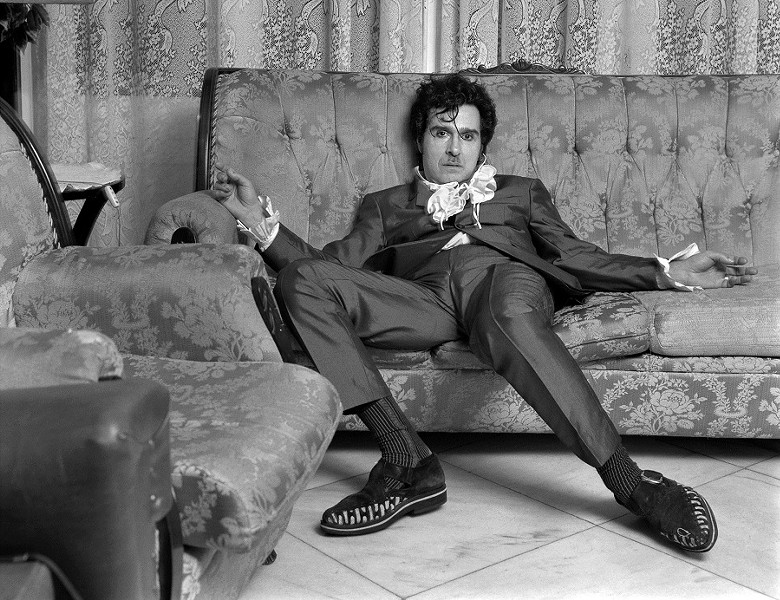 Tav Falco et The Panthers Burns sont l'un des derniers représentants de la fusion rockabilly blues noise comme le sont les Cramps ou Jon Spencer Blues Explosion. Enregistré dans un studio secret au coeur de Saint Germain des Près à Paris, ce nouvel album emmène encore plus loin le groupe dans son accomplissement.La voix exceptionnelle de Falco est mise en valeur par le groupe fort de plus de dix anneés de colaboration: Giovana Pirrorno à la batterie, Grégoire Cat à la guitare, Laurent Lanouzière à la basse. A noter en invités Bertrand Burgalat et Olivier Manoury.

TWEET

SHARE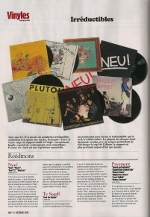 Trente ans après ses débuts à Memphis dans une veine rockabilly qui lui a valu d'être un des pionniers du rock garage moderne (retour aux racines rock'n'roll, esthétique façon années cinquante, énergie punk, son abrasif), Tav Falco démontre qu'il n'a rien perdu de sa pertinence avec cet excellent album enregistré à Paris. Toujours entouré de ses Panther Burns, Falco démontre sur "Conjurations.." qu'il n'a rien perdu de sa ferveur lorsqu'il s'agit de jouer un rock'n'roll âpre et classieux, que ce soit sur les rythmes primitifs de "Sympathy For Mata Hari" ou les complaintes bluesy de "Gentleman In Black" et "Administrator Blues". Falco éblouit lorsqu'il prend des poses de crooner sur des ballades pop (la superbe "Ballad of the Rue De La Lune", "Garden Of The Medicis" sur laquelle Bertrand Burgalat joue du clavecin) ou lorsqu'il chante le tango le sourire en coin ("Secret Rendez-Vous", "Tango Fatale").

TWEET

SHARE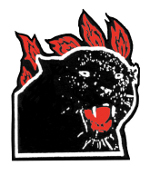 Tav Falco is an American underground icon and internationally renowned tango dancer of indeterminate age. Panther Burns, the band he formed in Memphis in 1979, is now staffed by glamorous Parisians. Being French, Falco's hired guns approach American trash culture as high art, and give this slinky garage blues a veneer of decadent sophistication. The brute confidence of Falco's smoky cabaret croon defies ridicule; he claims Borges, Bobby Pickett's Monster Mash and Renaissance Florence as influences for the loping, louche standout track, Garden of the Medicis, and gets away with it. He is your new favorite cult figure, but these days his back catalogue is priced way beyond your means.
http://entertainment.timesonline.co.uk/tol/arts_and_entertainment/music/cd_reviews/article7131398.ece