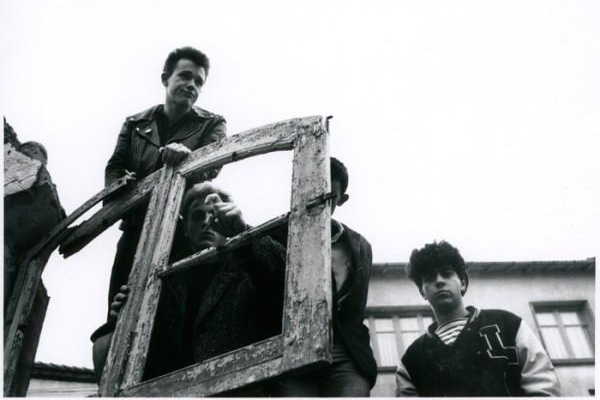 Back in the french early 80's, Dau Al Set was one of the first post-punk band in the area... Influenced by Wire, Buzzcocks, The Clash and the holy spirit of 1977, they built their own musical world between original punk rock and experimental reggae.
Bang! records discography
"Saving Steel from Rust"

EP vinyl + CD, MP3, FLAC

Here is the Dau Al Set complete anthology from 1983 to 1987, including their first maxi 45t, "ephémère compilation", their first LP, live material and previously unreleased studio material on a CD + their instant hit "Autonomy" on a 7" vynil single. more...
"Autonomy"

EP vinyl

Their instant hit, "Autonomy" used to be the most popular Dau Al Set's song. Never released in EP, Bang decided to repair this injustice 25 yeras later. B side is "I am/ I was". more...
Links
Myspace
Video
Reviews

TWEET

SHARE
Dau Al Set fut un groupe toulousain du milieu des S0's. Pas étonnant alors d'y retrouver les influences qui imprégnaient encore le rock français de l'époque ; punk (Buzzcocks), post-punk (PIL, Devo), new wave (early Cure) ou reggae. Certains titres étaient chantés en francais. Les inspirations furent bien digérées et Dau Al Set en conçut un cocktail malin qui pervertit la Ville Rose pendant quelques années (83 à 37 a la louche}. Bang! Records a compile un Cd rétrospectif ("Steel From Rust" - 23 titres, pas mal d'inédits) et sort même un 45t avec LE hit du groupe, "Autonomy". Beau travail et pointe de nostlagie;

TWEET

SHARE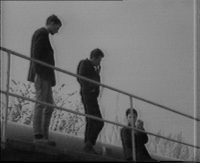 DAU AL SET punk sur Garonne!
Dès les premiers morceaux, la claque est rude, comme une décharge d'électricité vous parcourant les veines, hérissant les poils. Avec ses accords bruts, son accent cockney, Dau Al Set (DAS) remue toujours le punk toulousain. Ceux qui étaient au coeur des années brûlantes, lorsque le punk battait le haut du pavé de la ville rose, se souviendront d'eux. Depuis leur dernier concert, en 1995, Thomas Hirsch (chanteur) et Serge Fabre (guitariste) n'ont pas laisse tombé la musique. Début 2008. ils sont revenus avec Bang !Records, un label dont l'objectif est d'éditer des disques rock avec la rigueur du passionné et pour le bonheur des collectionneurs. D'où ce très beau coffret réunissant un 451 (l'objet rock par excellence) et un cd de 23 titres volcaniques. Jetez-vous dessus, seuls 500 exemplaires sont disponibles (à la Fnac, au Laboratoire et à Armadillo Disques).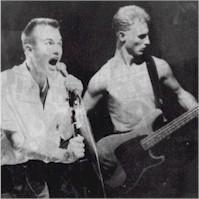 ROCK A LA CASBAH

Dau al Set, groupe phare de la scène punk toulousaine renait de ses cendres. Chaud devant !

Toulouse ? En 1981 des foyers de résistance punk crépitent au cœur de la ville rose. L'heure est aux Clash, Stift Little Fingers, Little Bob Story... Aux combats rock d'Indiens du SCALP (Section Carrément Anti Le Pen et de tributs aux lacets rouges sur les paires de Doc-Marteens. Dans Cette Jungle urbaine. Dau Al Set bat le haut du pavé. Si le groupe emprunte son nom à un mouvement surréaliste catalan de l'immédiat après-guerre. C'est le présent que conjuguent les quatre membres de Ce combo punk rock aux accents d'Outre-Manche.

JEUNESSE MODERNE

Depuis quelques années, un regain d'intérêt se porte sur ces groupes éclairs qui, au cœur des années 80, proposaient autre chose que de la soupe disco ou de la variété réchauffée dans une France zébrée de bandes reconnaissables à leurs coupes de cheveux. Oublions vite celles de David et Jonathan et concentrons-nous Ici sur les fers à cheval, crêtes et autres houppettes qui émergeaient des pogos en Midi-Pyrénées, Le cocktail explosif de Dau Al Set tient en trois points rythmique mordante, paroles turbulentes et attitude insolente. Un son qui fait chavirer la mythique salle du Bikini propulsant Dau Al Set en haut de l'affiche. Prenier maxi 45 tours, Premières chroniques dans les fanzines. Première tournée... Le groupe se retrouve sur la route avec les Dogs, les gens d'OTH.. Un album viendra couronner, cette carrière fulgurante qui s'achèvera lorsqu'une nouvelle vague de groupes alternatifs emportera la génetation Clash, C'est cette histoire "ultra locale' et universelle qui revient sur le devant de la scène du Festival International du Disque (FID) de Perpignan via l'entremise du label Perpignano-toulousain "Bang !Records" et de Thomas Hirsch, ex-chanteur de Dau Al Set plus connu sous le soleil catalan comme ancien Journaliste de l'Indép.
Read more ...