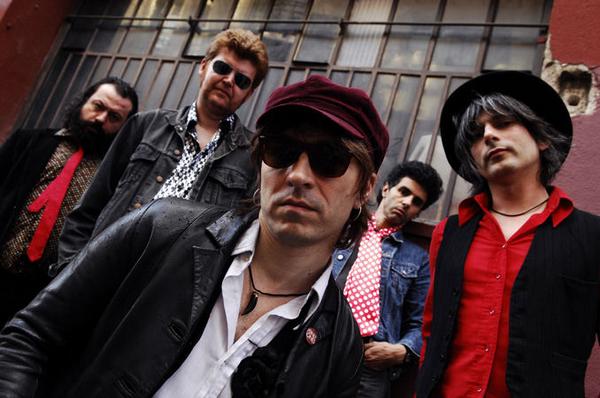 En 2007, "Guts" chanteur et compositeur rassemble autour de lui quelques amateurs de Glam et de rock and roll pour fonder les milkmen. Obsédés par les New York Dolls, Mott The Hoople ou les Rolling Stones d'"Exile...", ils reprennent à leur compte tout cet d'univers de rock and rollers décadents.
Avec leurs tricotages de guitares et leurs compositions de haute volée, ils s'imposent vite sur les scènes françaises.
Deux 45t sortent coup sur coup en auto production suivis de tournées en Espagne, Allemagne et Belgique... Puis leur premier album sur Bang!
Bang! records discography
"Pandora's box"

Sold Out!

After two memorable 45s, this is the first album of this parisian band with its so particular world that only this city can produce.
Urban glam rocks or ballads with this expert work on the guitars.
John Cale used to sing "Paris 1919". But this is "Paris, 2010", just a continuation of this rock and roll which these solitary dandys try to keep alive. more...
Links
Facebook
Reviews
Groupe parisien né en 2007, Guttercat & The Milkmen est composé de "Guts" Guttercat au chant, Chris Waldo et Lick Lickens aux guitares, Zan Nagat à la basse et Adrian Bang! derrière les fûts. Ils ont sorti l'an passé leur premier album, intitulé Pandora's Box. Voilà pour la (trop) brève présentation. Mais que contient donc cette fameuse boîte de Pandore ? Tout d'abord, ce qui surprend à l'écoute de ce premier album c'est la somme des influences digérées par le groupe : celui-ci désireux de ne pas s'enfermer dans telle ou telle chapelle musicale, brouille les pistes et mâtine son "classic rock" d'influences diverses, glam notamment. On pense au Alice Cooper Band, aux New York Dolls, mais également aux disques d'Iggy Pop (Lust For Life entre autres notamment pour certaines parties de chant). Ces influences font souffler un vent de fraîcheur sur ces compositions qui doivent également autant aux Rolling Stones de Sticky Fingers qu'au courant Paisley Underground (on pense en effet beaucoup à Steve Wynn).
Ensuite, loin d'être un groupe "à la manière de", Guttercat & The Milkmen arrive à apposer sa patte sur des compositions inspirées.
On est d'autant plus emballé par cet album, qu'il est bien rare de trouver dans nos contrées un groupe de rock de grande qualité sorti de la frange garage et punk rock (que l'on adore au demeurant !). Pour faire simple, sorti des Hushpuppies et des regrettés Hellboys, on désespérait quelque peu... Sur une trame classique couplet/refrain, le groupe arrive à retenir l'attention tout au long des 11 titres de l'album. Les guitares, décomplexées, sont à l'honneur sans que tout cela ne vire à la démonstration évitant ainsi l'écueil majeur de ce style de production.
Les leçons des Beatles sont également parfaitement maîtrisées notamment dans les parties vocales et les doublements de voix, conférant un côté classieux à l'ensemble comme sur le splendide "Late Night Blues". Les morceaux
Read more ...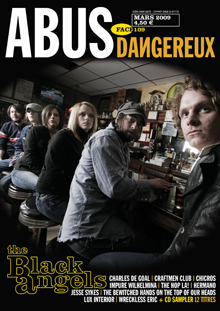 ABUS DANGEREUX Face 109 - MARS 2009

Tiens! Un chat de gouttière qui minaude avec des laitiers pour livrer sur le seuil de notre platine cette Boite de Pandore,qui s'écoute comme du p'tit lait dans les enceintes,à un détail prés,une ONLY ONES beer ou une THUNDERS Lager de préférence à portée de main.
J'ai jamais cru à ces conneries comme quoi les chats avaient 7 vies, pourtant notre matou prouve qu'il a longuement caressé les compos des DOLLS, BOLAN,SUDDEN et autres Chatcobites,euh pardon JACOBITES.

"Waiting for an angel","Ballad of a drunk man" ou "Angels in paradise" rappellent au bon souvenir ces légendes,le solo de "Love" le Loner. Sortent meme les griffes sur "Memories" et "In the middle of nowhere". Le genre d'album qui vous réconcilie avec les félins! Foncez donc chez votre crèmier favori, ici en l'occurence Bang Records,vous procurer cetee "Pandora's Box".
Quand à moi j'retourne au frigo me déguster une bonne KUSWORTH bien fraiche !

Jean-François ABGRALL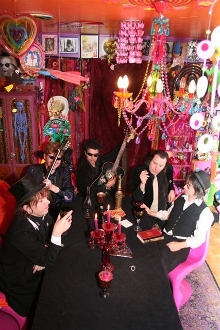 Ce Bang! records là n'a rien à voir avec le label basque du même nom. Il s'agit ici d'une équipe toulousaine (des membres de divers groupes de la ville) bien décidée à faire partager ses coups de coeur; des fois que certains ne sauraient plus reconnaître un bon groupe quand ils marchent dessus...
Aprés l'album des Garçons Sauvages, il y a quelques mois, c'est au tour de Gutterecat and the Milkmen de bénéficier du coup de projo.
Ca démarre sur un titre très New York Dolls-Rolling Stones avec une touche garage sixties "Waiting for an Angel". Ca se poursuit par des ballades épiques la Nikki Sudden, des passages acoustiques ciselés, des déchirades de guitares en haute tension propulsées par un souffle sombre et brûlant à l'Australienne (Johnny Casino...), des envolées glam-rock à la T-Rex, des vocaux tirés à quatre épingles (Dogs...) et bien d'autres perversions trop nombreuses pour être toutes listées ici.
On suppose que ce Pandora's box va faire un carton chez les félés de glam-trash-pop classieux et immortel. Ce ne sera que justice tant i1 a déjà des allures de classique.
Le groupe a partagé la scène avec une de ses influences majeures, Dave "Jacobite" Kusworth, il y a quelques jours à Santander.