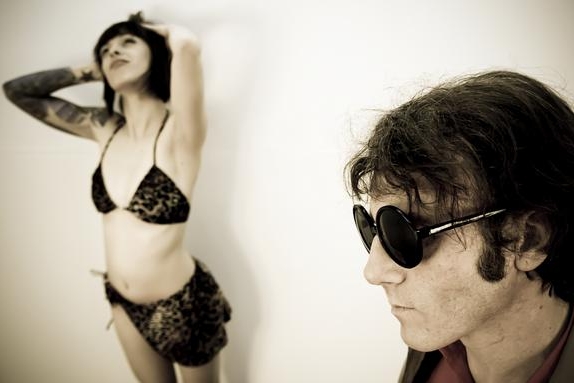 GILLES RIBEROLLES is the man behind Jumbo Layer: In the late 70's, he was the leader of Casino music, a french band signed by the New York city label ZE records. At the same time, he was journalist for the french rock magazine "Best" from 1978 to 1994.

Today, he makes music.... recording and playing with CHRIS WILSON (Flamin' Groovies) and JOHN SINCLAIR, the Beat-Poet of the MC5 and the WHITE PANTHERS. He has also released two documentaries about NEW ORLEANS a city which fascinates him.

In 2010, he has released this album for Bardi records (Bang! records in those days), with Mickey Blow on harmonica and vocals on one track. Gilles sings and plays most of these songs: a beautiful mix of New orleans r'n'b and rock and roll with a personal modern approach.

GILLES RIBEROLLES. Ce nom ne m'était pas inconnu. Revenaient alors à ma mémoire ses entretiens avec BLONDIE, JAMES BROWN, parus dans BEST dont il fut journaliste de 1978 à 1994. La réalisation, aussi en 1978, de la pochette de l'album "Stage" de DAVID BOWIE. Mais surtout les trois singles et l'album de CASINO MUSIC (1978 - 1981) produit par CHRIS STEIN, mixé par CHRIS BLACKWELL. Et puis l'age d'or du Rock and Roll à Paris, tous ces Roses Bonbons électriques, ces photos de jeunes gens aux looks ravageurs. L'histoire du Rock d'ici tournait une belle page, c'était annoncé, foutu. Mais personne encore ne le savait.

Une vie. Il enregistre et joue avec CHRIS WILSON et JOHN SINCLAIR, le Beat-Poet des MC5 et des WHITE PANTHERS, tourne deux films documentaires sur NEW ORLEANS et co-Ă©crit une chanson (Panic of girls) pour le dernier album de BLONDIE.

En novembre 2010. J'assistais au concert parisien de JUMBO LAYER, le nouveau "combo" créé par GILLES en 2002, accompagné ce soir là d'un beatnik et de ses bongos, tout droit sortis d'un rève de Bunker Hill, ainsi que d'une danseuse-prétresse vaudou aux courbes aussi dangereuses que ce serpent damné et responsable dans le jardin d'Eden du péché originel. Le show fût époustouflant. Les loops instantanés et la pureté de JUMBO LAYER m'ont mis à genoux. Je pensais immédiatement à JOE STRUMMER sous influence définitive de LEE DORSEY et O.V. WRIGHT réunis. Pas de doute. Du Rock and Roll, racé. De nouveau. Enfin ! Soul Food from N.O.L.A. joué par un Dandy blanc. Comme Elvis en somme. Le Phénix avait donc du goût.

One Man Band classieux et terriblement dansant JUMBO LAYER a aussi le chic pour s'entourer d'invités irréprochables. Comme MICKEY BLOW, présent sur le nouvel et troisième album, "HUMAN GUMBO". Issu des légendaires STUNNERS et compagnon de scène de JOHNNY THUNDERS lorsque ce dernier avait élu domicile à Paris, MICKEY BLOW est l'église Soul dans le Rock'n'Roll. Cuir et ceinturon à tête de mort, couronné d'anges lorsqu'il souffle dans ses harmonicas. Parfait.

JUMBO LAYER est le serpent qui danse au bout d'un baton.

P. Lombardi
Bang! records discography
"Human Gumbo"

LP vinyl + CD, MP3, FLAC

New orleans rythm and blues revisited by a french musician. That is the best way to describe the music of Jumbo Layer. Gilles Riberolles, the man behind the project was a journalist for the french rock review "Best". He has released this record, a very personal version of the bayou music helped by his fellow Mickey Blow, one the best french harmonica player. more...
Links
Myspace
Facebook