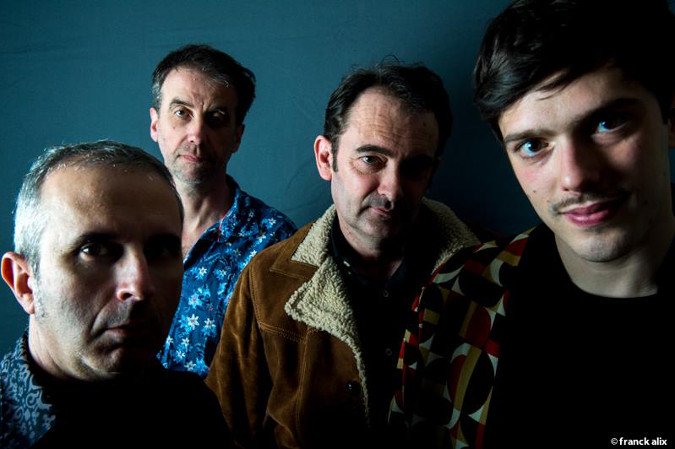 Straight out of the bowels of Bang records, Staretz is the gathering of a few misguided, fanatics of vintage rythm'n'blues and rock'n'roll. They are still some to worry about the famous twelve-bar blues legacy. A smell of Yardbirds, the Kinks, Link Wray, or other small white boys in need of negritude, emanates from their music ...

After three years, a debut album, and gigs in France and Spain, the sudden death of Philip Lombardi, rock guitarist and companion for 20 years, in the summer of 2015, stops the momentum of the quartet.
On the advice of Patrick Derrien (boss of "Made In", the toulouse's blues record store), a young student, crazy about blues music, Pablo, joined the group to continue the adventure.
The spark occurs! A new drummer has just arrived after the separation with Misty, US exiled girl in the pink city and widow of Philip.
The second album recorded almost live at the legendary "Condorcet" studio by Olivier Cussac, the 5th recording musician of the band, has been released in autumn 2016: 15 original songs and a Lee Dorsey cover. Vinyl, CD, digital and on Itunes, Amazon, etc ...

Sorti tout droit des entrailles de Bang records, Staretz est le rassemblement de quelques égarés, encore fanatiques de rythm'n'blues et de rock'n'roll, première mouture.
Venus des Spurts, Zodiacs ou Sad Knights, ils sont encore quelques uns à se soucier des fameuses douze mesures hérités du blues. Une odeur de Yardbirds, Kinks, Link Wray, ou autres petits blancs en mal de négritude, émane de leur musique...

Après trois ans et un premier disque, des concerts en France et Espagne, le décès brutal à l'été 2015 de Philippe Lombardi guitariste et compagnon de rock depuis 20 ans, stoppe net l'élan du quatuor. Sur les conseils de Patrick Derrien, du magasin de disques toulousain Made In, un jeune étudiant fou de blues, Pablo, rejoint le groupe pour continuer l'aventure.
L'étincelle se produit ! Un nouveau batteur vient d'arriver après la séparation avec Misty, US girl exilée dans la ville rose et veuve de Philippe. Le second album enregistré quasi live au mythique Condorcet par Olivier Cussac 5ème musicien en studio, est sorti en automne 2016, 15 compositions et une reprise de Lee Dorsey en vinyle, CD, numériques et sur Itunes, Amazon, etc...

STARETZ :
Serge Fabre (vocals, guitars, harmonica)
Pablo Acedo(guitars)
Eric Baldini (Bass, xtra vocals)
Jacques Raffanel(Drums).
Bang! records discography
"Panettone boogie"

LP vinyl, CD, MP3, FLAC

The Staretz album should please all rock'n'roll lovers, evoking some aspects of the highlights of the early Stones but also a surprising encounter between the Beatles (Hamburg days), Television and the Clash of the big time.
12 tracks LP served by harmonies, vocals and impeccable sound. more...
"Go down south"

LP vinyl, MP3, FLAC, CD

In May, 2016 Staretz returned to the famous studio "Condorcet" to record their second album. New guitarist, new drummer and much more varied influences: rock and roll, rythm'n'blues, folk, country rock...
An happy mixture for the ears. One more time, produced by Olivier Cussac. more...
Links
Facebook
Bandcamp
Twitter
Video


"Bitter streets" by Staretz recorded live at Connexion café, Toulouse, 09/12/2017, opening for the Flamin'Groovies
Orgue Hammond B3+ Leslie : Olivier Cussac
Editing/Directing : Hugues-Alban Bermond & Fabien Labarge

copyright bang! records 2017

TWEET

SHARE


"Radio man" by Staretz from the album "Go Down South" Produced by Olivier Cussac at Condorcet Studio, Toulouse.
Images from the gig with the Flamin' Groovies at Connexion café , Toulouse. 09/12/2017
Released 2016-09 on Bang! Records
Editing/Directing : Hugues-Alban Bermond & Fabien Labarge.

TWEET

SHARE


"One & One" by Staretz from the album "Go Down South" Produced by Olivier Cussac at Condorcet Studio, Toulouse, Released 2016-09 on Bang! Records
Editing/Directing : Hugues-Alban Bermond & Fabien Labarge Filmed in Laurentie.
Thanks to Vincent & Charlotte

copyright bang! records 2017
Reviews

TWEET

SHARE

Au Sud! Toujours plus profond vers le Sud! Voilà en somme le voyage que nous propose l'excellent second album de Starez. On pourrait se contenter de cette info, sauf qu'on est toujours au sud de quelque chose et qu'à partir de là , cela ne vous dira pas grand-chose sur la musique proposée par le groupe toulousain. Le grand Sud fantasmé ici est du même tonneau que celui dessiné dans le bayou du Creedence Clearwater Revival ou que celui déchiqueté dans les albums du Gun Club. Cela ne vous permettra pas de poser un index sur une carte routière américaine, mais au moins de recadrer votre boussole.
Read more ...
Deuxième album de Staretz, après Panettone Boogie en 2013, Go Down South est également leur premier sous bien des points. D'abord par la force des choses, le décès de Philippe Lombardi, guitariste et complice depuis plus de vingt années de Serge Fabre, a laissé un tel abysse au sein de la formation, et bien au delà , qu'il en devenait inimaginable de continuer en prétendant ne rien changer. On ne cherche pas un remplaçant à celui avec qui on a partagé tant de passion. Je ne cause pas là de musiciens se retrouvant au moment de monter sur scène, ou d'enregistrer quelques chansons. Serge Fabre et Philippe Lombardi étaient partenaires de vie, dans leurs nombreux groupes, dans leur label commun, Bang Records, dans l'amour de la musique et des disques qui se partagent dans le silence. Ces deux là n'ont été éloigné l'un de l'autre que par un étui de guitare glissé entre les deux sièges d'une voiture en route vers le prochain gig. Quand l'un pensait, c'est l'autre qui parlait.....

Read more RANX ZE VOX
http://ranxzevox.blogspot.fr/2016/10/staretz-go-down-south.html
Laissez vous séduire par le rock sous influence 60's de Staretz. Si le voyage est temporel, il est également intemporel. Qualité oblige.

« Go down south »… A l'écoute de ce second album des toulousains, on peut difficilement descendre davantage dans les profondeurs du sud américain. Genre Creedence Clearwater Revival. En revanche, il serait malhonnête de s'arrêter là . Les bords de la Garonne ne sont pas la baie de San Francisco et les insouciantes 60's n'ont qu'un faible écho avec la terrifiante année 2016. Si l'inspiration générale s'avère être un blues rock made in USA, elle transite par l'Angleterre. Un peu comme la belle américaine Chrissie Hynde et ses Pretenders… Qui finit par avoir un enfant avec Ray Davis le chanteur des Kinks. Bizarrement, la musique de Staretz évoque ce carrefour des influences, les enfants en moins. Des Kinks aux Yardbirds, de Link Wray aux Inmates, on savoure l'ensemble de ces filiations sur ce second album du groupe. Un opus qui a bien failli ne pas voir le jour après le décès tragique en 2015 du guitariste Philippe Lombardi. C'était sans compter un jeune étudiant fou de Blues (Pablo Acedo) qui rallume la flamme et donne le courage au reste de la formation de replonger dans les affaires. Et Bang ! Records de sortir cet album qui permet par la même occasion de (re)découvrir le premier épisode de Staretz. Lui aussi indispensable, voire fortement recommandé, pour tomber sous el charme de ce blues rock authentique et franchement piquant.

Hervé Devallan
http://www.rockmadeinfrance.com/actu/staretz-go-down-south/21788/

TWEET

SHARE

On retrouve Philippe "Bang!" Lombardi en guitariste chez Staretz, gang toulousain de rock'n'roll à references (Dogs, Beatles pre-63, Television, le blues via les Animals ou les Stones, etc...), avec un premier album (Panettone Boogie) en vinyle, trés bien produit et bourré de compos léchées.
Staretz est une belle machine, les deux guitaristes (qui sont aussi les boss du label) taquinent ensemble le rock jusqu'aux racines depuis plus de 20 ans (Taxi Driver, Spurts, etc-...), inutile de dire que ça toume rond. Le groupe accompagne Misty White quand elle _se produit en ville.

TWEET

SHARE
Génial, un vinyl dans ma boîte aux lettres. De quoi s'agit-il ? Ho ! Le dernier né de Bang! Records. Panettone Boogie du groupe STARETZ. Pas de Hot-rods ni de chemises hawaïennes, mais quatre garçons magnifiques de sobriété au verso. Hum... avec un titre pareil, je parie que je vais y trouver au moins une reprise de Marino Marini ou de Renato Carosone. Allez hop direct sur la platine.

Aucune prouesse technique ni prétention, au contraire, une très belle voix à la Dion, des chœurs enlevés, une guitare raffinée presque féminine qui saurait rappeler Poison Ivy, surtout sur ce très Crampsien Travelin' Man. Je me régale ! Il s'échappe de cet album l'essence même du garage. La fraîcheur et l'énergie qui m'avaient fait aimer les Beach Boys, les Remains, les Ramones etc... Bon, un ou deux morceaux sur la face B certainement trop entendu pour ma part, comme Baby Doll que j'aurais bien remplacé par une respiration Napolitaine aux accents de mandoline (idée fixe quand tu nous tiens) mais pas de quoi crier au scandale, j'ai même déjà mes chouchous Duties of Love, Line of Days, The Thrill is on.

Avec son album Panettone Boogie, STARETZ m'a réconcilié avec le garage là où trop m'en avaient définitivement dégoûté de par leurs déguisements de momies, leurs fausses Bettie Page de groupies et leur petit monde hermétique remplis de clichés.

Rien de tout ça chez Bang! Records. Avec cette nouvelle référence, le label Toulousain que je vous invite à découvrir ici étoffe un catalogue déjà joliment garni par l'album de Bruce Joyner (ex Unknows), celui de Tav Falco, de Jumbo Layer, des Zodiacs ou encore les singles de Obits.

Avec Staretz prophète en son pays, Toulouse démontre qu'elle n'est pas seulement la ville de l'épatant Ringo Willy Cat.
http://ranxzevox.blogspot.fr/2013/04/staretz-panettone-boogie.html